iPad Pros on sale at Amazon!Use this link
(note: sales via this link may generate a commission to Christian Boyce, from Amazon.


Here is an iCal calendar showing the times and teams for every prime-time NFL game for the 2011 season. The calendar is provided by Scott Crevier of South End Zone and if you're a football fan I strongly urge you to visit his site.
In years past, I've modified Scott's full NFL schedule using AppleScript, producing a calendar of just the prime-time games, but Scott agreed to build the prime-time calendar himself this year. Scott's calendar has the advantage of being kept up to date as the season moves along.
If you click the link here, iCal will launch and ask you whether you want to subscribe to the calendar.


The answer is "Yes" so click Subscribe (don't change the Calendar URL– that has to stay as shown). In the next box, you may wish to rename the calendar, change its color, and turn off the Alerts and Attachments and Reminders. You may also want to change the update frequency to every day rather than every week. See below.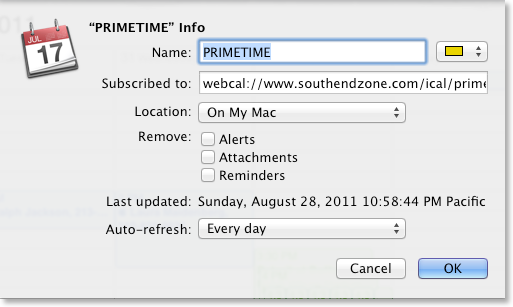 The NFL season is right around the corner. Subscribe to this calendar and you'll know who's playing on Monday Night Football (and Sunday Night Football, and Thursday Night Football), and when.
(Those who are interested can read how I created the prime-time calendar myself in years past, starting with South End Zone's full NFL schedule and using AppleScript to systematically remove every game that started before 4 PM Pacific time. Writing the AppleScript was a fun exercise but this year's calendar from South End Zone is better due to the updating.)
---
Got 60 seconds? Learn something about the Mac on my
One-Minute Macman website!
-----
Intego Internet Security X9.
The best. Scans for viruses.
Watches for inbound network attacks.
Works with macOS 10.8 and higher, including Mojave.
Install it and relax, knowing you're covered. Free trial.
This is what I use.