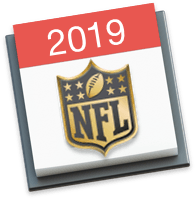 The 2019 NFL schedule is out, and it's super-helpful to know when the games come on, and who's playing in them, so you can make plans. You'd think you could get NFL calendars onto your iPhone and iPad and Mac by visiting nfl.com, but they don't have downloadable or subscribe-able calendars there, so don't bother looking.
Instead, go to the South End Zone website, where you'll find calendars for every team, and for the post-season, and for prime-time, and more. The beautiful thing about the South End Zone's calendars is you can subscribe to them ONCE and they will continue to work year after year after year.Another beautiful thing: the times shown for the games are always in your local time zone! If you're in California on a Monday Night, South End Zone's calendar shows game time as 5:30 PM. If you're in Texas that night, it shows the game time as 7:30 PM. It's awesome.
Note: you can put the South End Zone's calendars onto PCs and Android devices too.
You should read this South End Zone help page. It explains a lot. If you're stuck, contact me. The big trick: use "webcal" in front of the URL, not "http". Otherwise you will be adding events, not subscribing. You want to subscribe. URLs for the teams should look like this:
webcal://www.southendzone.com/ical/49ers.ics
As you can see, it's "webcal://www.southendzone.com/ical/" followed by the team name, followed by .ics. The Packers calendar is
webcal://www.southendzone.com/ical/packers.ics

The Patriots calendar is
webcal://www.southendzone.com/ical/patriots.ics
and so on.
Here are some calendars you may like, courtesy of South End Zone, ready for one-click subscribing. These links will open up the Calendar app on your Mac, like so:

… or a message about Subscribing to a calendar on your iPhone, like so:
All prime-time games (Thursday Night Football, Sunday Night Football, Monday Night Football)
All NFL games (all teams)
All post-season games
All San Francisco 49ers games
All Green Bay Packer games (for my friend Tom)
(Obviously the post-season schedule is unknown until the end of the season, but South End Zone updates its calendars as soon as there is new information, so when the time comes for playoffs, the post-season calendar will have the info you need. Also, the score of each game is entered into the calendars as games are completed so you can quickly look up who won any particular game.)
These are the calendars I use. Thanks to Scott Crevier of South End Zone for providing this service to pro football fans, for free.
Please leave a comment if you this article helped you. Or share it with your Facebook friends. That helps me too. Thank you.
Note: if college football's your thing, check out my article with links to calendars you can import into your Mac or iPhone, for every college football team. If the NBA Playoffs are what you want, I made a calendar for that too. As far as I know, these are the only subscribable calendars for college football bowl games and for the NBA Playoffs that integrate with your iPhone and Mac calendar apps.