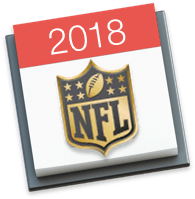 iPad Pros on sale at Amazon!Use this link
(note: sales via this link may generate a commission to Christian Boyce, from Amazon.
Just in time, here's the NFL Post-Season Calendar for iPhone and Mac. It has dates, times, teams, and TV channels (and it will update to show the scores, and the schedule for future games). Subscribe to the calendar, set it to refresh daily, and you're done. Have the entire NFL playoff schedule at your fingertips, whether your fingertips are on your iPhone, iPad, or Mac, right there in the Calendar app! Here's how you do it.
The NFL Post-Season Calendar comes to us courtesy of our friend Scott Crevier at SouthEndzone.com. His site is a treasure-trove of NFL calendars– the complete NFL schedule, just the prime-time games, individual team schedules, and of course this one: the NFL Post-Season Calendar. Click that link and you're on your way.
When you click the NFL Post-Season Calendar link from a Mac you'll see a box like this:
Don't change anything there— that's the address of the calendar, and it won't work if you change it. You can make changes in the next box, the one that shows up after you click "Subscribe."
You can change the name, the color, the refresh frequency (change it to "Every day"), and you can come back and change it again later if you'd like. Hint: where it says "Location" you should choose "iCloud" if you can. That way, when you add the calendar on your Mac, it will show up on your iPhone (and iPad) too.
Here's how it looks on my Mac.
If instead of using your Mac, you're subscribing by using your iPhone or iPad, you'll get this little pop-up when you tap the NFL Post-Season calendar link: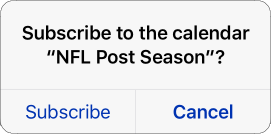 Tap "Subscribe" and you'll see another little pop-up.
Tap "View Events" and you'll see the results.

Here's how it looks on my iPhone (with all of my other appointments hidden):
Note that adding the calendar to your iPhone will not automatically add the calendar to your Mac. And, it's harder to get rid of a calendar when you add it this way, so add it from your Mac first, if you can. (Hint for Deleting Subscribed Calendars from an iPhone: Settings/Mail, Contacts, Calendars/Subscribed Calendars, tap the calendar, tap Delete Account).
You may have guessed this: the calendar will update itself next year too! Subscribe once and never have to deal with it again. Awesome.
Note: here's my article about the College Football Bowl Game calendar (which I maintain personally). Subscribe to my College Football Bowl Game calendar today and be ready for next year. I update it every year, as soon as the schedule is set, so if you subscribe now, the games will magically appear on your iPhone, iPad, and Mac next December. Do it now while you're thinking of it. And tell a friend!
Special Note to my friend Tom N: you can find the Green Bay Packers schedule at SouthEndzone.com— subscribe to it once and you're all set, forever. That goes for the rest of you too. Oh, and of course all of the calendars at SouthEndZone.com are hip to your time zone– game times are shown in your time zone, no matter where you are. Nice work, Scott.
As always, if you're stuck, contact me and I'll help you out. It's good to know how to subscribe to calendars, so learn how now and be able to do it with other calendars later (sports teams schedules, phases of the moon, movie releases, and so on).
It also works with Google Calendar.
Just right-click
this link
and copy it, go to Google Calendar (that is, use a web browser to go to gmail.com, sign in, then go to the Calendar section), and click the stack of three dots to the right of "Add calendar." Choose the option to "Add from URL." Paste in what you copied and you're all set.
The URL you paste in should start with "webcal://." If the URL starts with "webcal:%2f%2f" your browser has converted the URL using "URL Encoding." In my experience, Chrome sometimes applies URL Encoding to URLs and Safari never does. The URL has to have slashes in it. If it doesn't, change every instance of "%2f" to "/" and you'll be all set. There are four slashes in the URL, starting with the two in a row after "webcal:". Thanks to readers BJ and Pete for asking about this.
Google can be very, very slow to update iCal-type calendars (which is what the NFL Post-Season calendar is). It's been an issue for years (read all about it, here, and here). This means you may not see the calendar updating as quickly as you might expect. The only practical solution for you is to delete the calendar and add it again. Even then, you may get a cached version of it, not an updated one. Bad.
Please leave a comment if this article helped you. Or share it with your Facebook friends. That helps them and it helps me too. Thank you.
Got 60 seconds? Learn something about the Mac on my
One-Minute Macman website!
-----
Intego Internet Security X9.
The best. Scans for viruses.
Watches for inbound network attacks.
Works with macOS 10.8 and higher, including Mojave.
Install it and relax, knowing you're covered. Free trial.
This is what I use.