Updated April 20th, 2020.
First in a series of Mac Mastery articles, demonstrating the best tips and handiest features of the Mac and its apps. Read them all!
Do you have files scattered all over your Mac's desktop? Would you like to clean things up and get organized, but it seems like too much trouble? That's certainly the case for many people. The process of making a new folder, finding the folder, dragging things into it, and then renaming the folder just seems too hard. Fortunately, there's a better way, and it's built right in.
The key to quickly putting things into folders is to use the Finder's "New Folder with Selection" menu item. It's under the File menu. Here's how to do it.
First, select the items you want to put into a folder. That's right, you select the items first, before you make the folder. You can select files or folders or a mix. TIP: hold the Command key down to select more than one item.
Then, go to the File menu and choose "New Folder with Selection." You'll see a nice animation, and then a folder appears as shown below.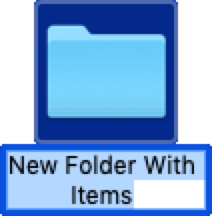 The folder will be selected automatically, and the name is highlighted so all you have to do is type the name you want to assign to the folder. No clicking needed, no deleting needed. Just type. Hit Return when you're done, or click anywhere on the screen (except on the folder). That's it, you're done.
You can peek inside the folder if you want, but trust me, this works.
A nice touch: when you choose New Folder with Selection you'll see the number of items appended to the menu. That is, if you select 4 items, the menu will say "New Folder with Selection (4 Items)." See below.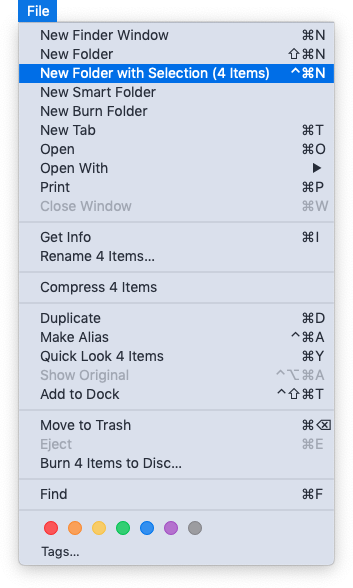 BONUS: keyboard shortcuts is Command-Control-N. And, you can right-click (or Control-click) on one of the selected items and "New Folder with Selection" will show up, right at the top.
(This feature's been around a while and it's one of my favorites. I wrote about it when it first came out– macOS 10.7– and for a trip down Memory Lane, check out that article. Includes a video showing how it's done!)
Copyright 2008-2023 Christian Boyce. All rights reserved.
---
Did this article help you?
Maybe you'd like to contribute to the
Christian Boyce coffee fund.

---
Want some some quick iPhone how-tos?
Visit me at
iPhoneinaminute.com
.
Looking for quick tips about Macs?
See my
One-Minute Macman
website!
Sincerely,
Christian Boyce
---