iPad Pros on sale at Amazon!Use this link
(note: sales via this link may generate a commission to Christian Boyce, from Amazon.
UPDATE (9-12-2017): Apple introduced an updated Apple Watch, an updated Apple TV, and three new iPhones. You can watch the entire presentation using this link. You can watch the special iPhone X video, featuring Chief Design Officer Jony Ive, using this link.
UPDATE 2 (9-12-2017): I'll be on the Digital Village radio program talking about the new iPhones on Wednesday September 13th, 2017. Read about how to listen to the show (they do record it).
It's that time again– time for Apple to announce something exciting in one of their big Special Events. This event will be held in the Steve Jobs Theater at the new Apple "Spaceship" campus, and you can watch it unfold live at 10 AM on September 12th, 2017 using your Mac or your iPhone and this link. You can also watch it using your Apple TV– look for the "Apple Events" app. (You'll be able to watch replays of the event on demand using these same methods.)
Everyone asks me "What are they going to show?" The answer is "I don't know." I'll find out by watching the event online, same as you. Apple has generally introduced new iPhones in September, so I'm going to guess that we'll see new iPhones on Tuesday. That's as far as I'll go in the guessing department. It doesn't matter anyway– we can't buy what hasn't been announced, so let's sit back and watch the show and find out together on Tuesday.
If we're lucky we'll get a bit of a look at the Steve Jobs Theater too. It's supposed to be quite a venue. (Click the picture to see details of the Steve Jobs Theater, including video shot from a drone.)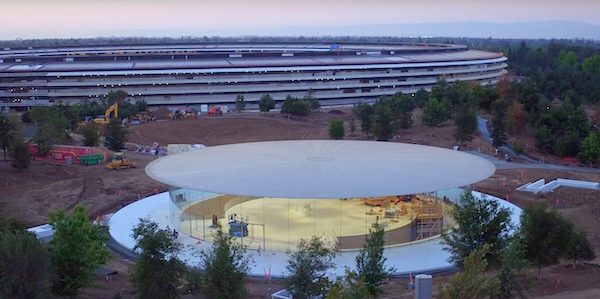 (Thanks, 9to5Mac, Duncan Sinfield, and YouTube.com)
Got 60 seconds? Learn something about the Mac on my
One-Minute Macman website!
-----
Intego Internet Security X9.
The best. Scans for viruses.
Watches for inbound network attacks.
Works with macOS 10.8 and higher, including Mojave.
Install it and relax, knowing you're covered. Free trial.
This is what I use.