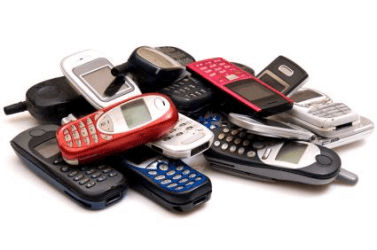 — How to Trade-in your old Smartphone for an Apple Store Gift Card —
Apple is offering a trade-in program for old smartphones via this link.
Just go online, click a few buttons, and see how much your old phone is worth. It doesn't have to be an Apple iPhone (though it can be) and you don't have to use the trade-in value toward a new iPhone (though you can). They'll take a BlackBerry, HTC, Motorola, Nokia, LG, or even a Samsung, and if it qualifies, Apple will pay you with an Apple Store gift card.
If you'd rather have cash, look into It's Worth More and Gazelle. Prices vary so check them both. While you're at it, see what Amazon will give for your old stuff. See below.
If you have an old phone sitting around in a drawer now is the time to take it out and get something for it.
ALSO: use this link to see about trading in your old iPad, Mac, or PC with Apple, this link for Gazelle, and this link for It's Worth More.
DOUBLE-ALSO: Amazon will take a variety of things. Here's how Amazon describes their Trade-in program:
"The Amazon Trade-In program allows customers to receive an Amazon Gift Card in exchange for hundreds of thousands of eligible items including phones, electronics, video games, books, DVDs, and CDs. The process is easy and convenient with free shipping, an immediate offer, and no required registration or listing."
Pretty nice. They also pay for shipping. You should check it out.
---
Got 60 seconds? Learn something about the Mac.
Visit my One-Minute Macman website!