iPad Pros on sale at Amazon!Use this link
(note: sales via this link may generate a commission to Christian Boyce, from Amazon.
— How to search Google for different kinds of pictures —
Third in a series of Google search tips.
Read them all:
---
You already know how to
search Google images by color
. Here's how you narrow down Google image search results by
type
.
For example, let's say you start by searching for birds and you've restricted the results to "red"…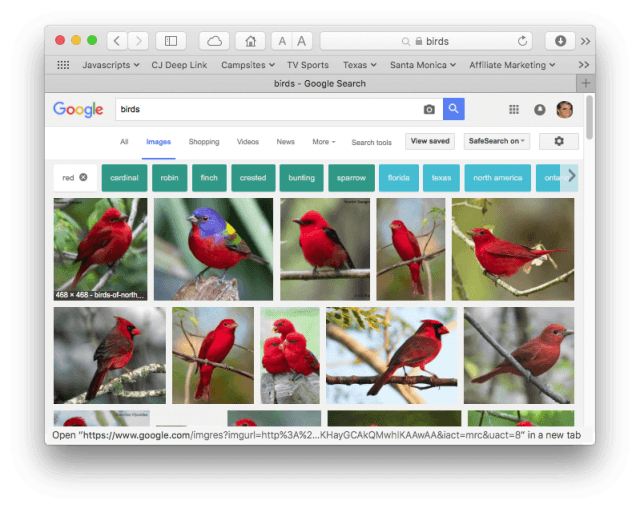 Now you click the "Cardinal" button and you get this:

Maybe you don't want photographs– maybe you want art. So click the "Art" button.

Maybe you want line drawings, like in a coloring book, so you have something to pass out to your 2nd-graders. That's easy too: turn off "Art," click Search Tools, and then, under "Type", choose "Line Drawing."

Finally, let's say you want to be sure you're allowed to use the picture in your project. How can you know? This is also under Search Tools— you're looking for "Usage Rights."

There's a lot more under "Search Tools." The Size menu helps you find pictures that are big, for your desktop picture, or small, for a website project. The Time menu helps you find pictures that are very new, or very old, or from a specified date. You should click around and experiment.
Got 60 seconds? Learn something about the Mac on my
One-Minute Macman website!
-----
Intego Internet Security X9.
The best. Scans for viruses.
Watches for inbound network attacks.
Works with macOS 10.8 and higher, including Mojave.
Install it and relax, knowing you're covered. Free trial.
This is what I use.