iPad Pros on sale at Amazon!Use this link
(note: sales via this link may generate a commission to Christian Boyce, from Amazon.
— How to Make "Recent Items" More Useful —
Second in a series of short blog posts explaining how I use my Mac– shortcuts, techniques, settings, etc. Each post is self-contained but I suggest you read them all.
How to Make "Recent Items" More Useful
Executive Summary: Apple menu, System Preferences, General, Change Recent Items to 50
There's a semi-handy menu under the Apple menu called Recent Items. Choose an item from that menu and it opens right up– no need to hunt all over for it.
It's only
semi
-handy because the Recent Items list is too short– you almost never find what you're looking for in Recent Items because it only shows
ten
recent application,
ten
recent documents, and
ten
recent servers. (I have this feeling that the thing I want is usually #11.)
Solve this problem by increasing the number of items in the list. Just go to the Apple menu, then to System Preferences, then to General. You'll see Recent Items: near the bottom of the General Preferences pane and it will probably show "10" Documents, Apps, and Servers. Here's what General Controls looks like by default.

Change the "10" to something larger (mine's set to 50) and your Mac's Recent Items will look something like this: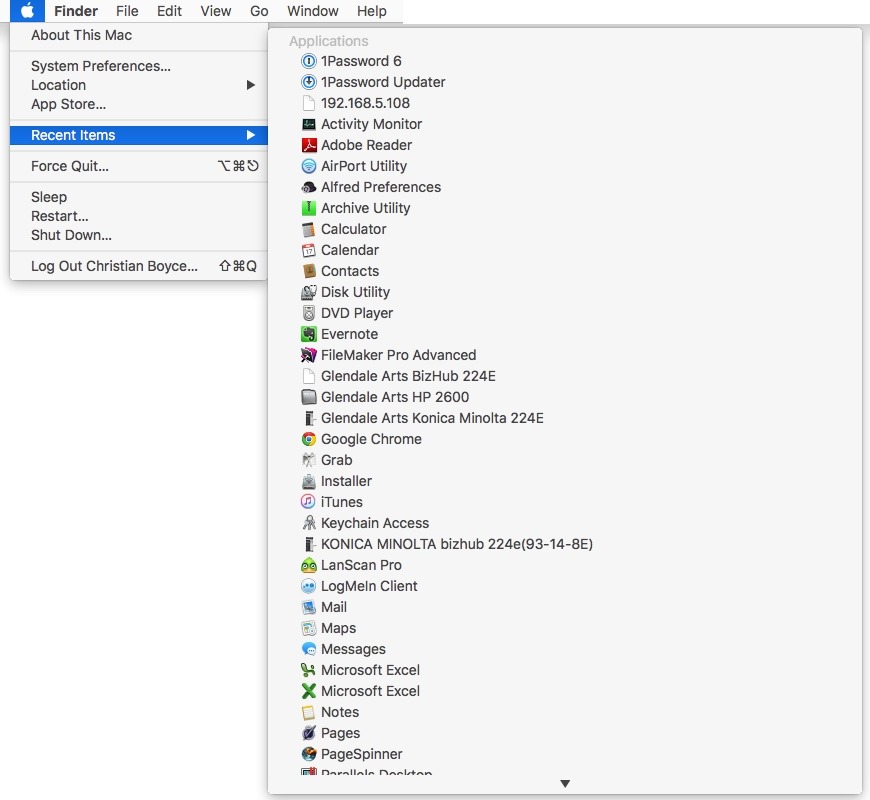 and this:
More things in the menu means more chances to find what you're looking for. More is better.
Note: you won't see improvement right away. At first, you'll still see ten Apps, ten Documents, and ten Servers… but over time, as you use your Mac, the menu will grow to hold more and more items. It's simple to change it back if for some reason "more" is not better for you. But I think you'll like it this way.
Now you have to remember to LOOK in the Recent Items menu when looking for stuff. That's on you. I can only do so much.
Bonus: sometimes you see something in the Recent Items menu and you wonder where it is on the hard disk. Hold the Command key down while showing the Recent Items menu and the menu items change to Show (name of thing) in Finder.

Choose one when it says "Show" and the item will be shown in the Finder. Try it once and you'll be an expert.
---
Also in this series:
How to Bring Back the Mac's Scroll Bars
---
Got 60 seconds? Learn something about the Mac on my
One-Minute Macman website!
-----
Intego Internet Security X9.
The best. Scans for viruses.
Watches for inbound network attacks.
Works with macOS 10.8 and higher, including Mojave.
Install it and relax, knowing you're covered. Free trial.
This is what I use.