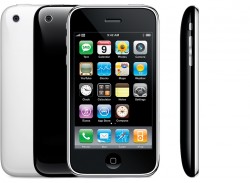 iPad Pros on sale at Amazon!Use this link
(note: sales via this link may generate a commission to Christian Boyce, from Amazon.
I bought a new iPhone last week-– the 3G S, 16 gigabytes of storage, in vivid black. It looks just like the 3G it replaces but has a few new doodads inside. And it has "S," which stands for "Speed."
Here are some pictures.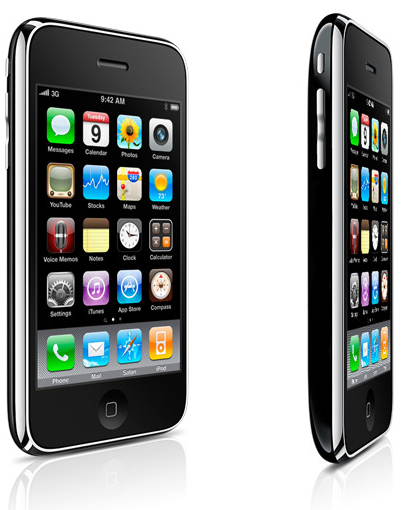 Here's a list of the things I like about my new iPhone 3G S.
It was easy to order from Apple's website.
It was "only" $199 (my original iPhone was $599– yikes).
It arrived on time, on Friday 6-19-2009, thanks to Fed Ex (no charge from Apple).
It is MUCH faster than my original iPhone– at everything.
The camera can take still photos or video. Video can go straight to YouTube if you'd like.
The camera has an autofocus but you can tap the screen to show what you'd prefer to focus on.
There's a compass inside so when you look at a map it can orient itself to the direction you're facing.
All of the things I liked in the original iPhone are here in the 3G S: easy to use, elegant interface, great selection of applications.
The only things I don't like about the new iPhone have to do with AT&T. First, the phone wouldn't activate, and that was because AT&T had no idea I had this new phone– even though I had to pass through AT&T's website to check my eligibility for the new iPhone's subsidized pricing on the way to buying it. It took me a day to figure out what was going on, but after a couple tries with AT&T's hilariously uninformed "customer service" squad ("You can't activate the iPhone without going to either an Apple store or an AT&T store" (wrong). "You don't have an iPhone 3G S" (wrong). "The internet is like a big highway, and activation of so many phones at once is like running out of gas on the way to your mother's on 4th of July weekend" (huh? Actually, I made that one up)).
The second thing I don't like about the new iPhone 3G S is it costs me $10 more per month to get the same kinds of stuff as my original iPhone: 450 anytime minutes, unlimited data plan, unlimited text messaging. It's faster at the data stuff so I am not bothered all that much. Still, $100 per month sort of adds up.
Hats off to AT&T customer service guy "Justin" who listened to my story, verified that his company didn't know about my new iPhone, entered my new phone's SIM card number and iPhone serial number into their computers, AND made sure that my voice mail worked. All without once hanging up on me. More like that, please. Boo and hiss to every other AT&T comedian, I mean "customer service representative," who either didn't know anything about the iPhone, or anything about anything. There were four of those. Double boo and double hiss to AT&T's automated customer service phone system that makes you enter your phone number, then "touch or say 1 for service," then "touch or say 7 for iPhone support," then "touch or say 0 to speak with an operator," then– after you get through all that they say "Sorry, we're closed. Call back during regular business hours."
---
Got 60 seconds? Learn something about the Mac on my
One-Minute Macman website!
-----
Intego Internet Security X9.
The best. Scans for viruses.
Watches for inbound network attacks.
Works with macOS 10.8 and higher, including Mojave.
Install it and relax, knowing you're covered. Free trial.
This is what I use.