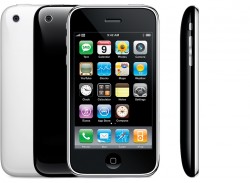 iPad Pros on sale at Amazon!Use this link
(note: sales via this link may generate a commission to Christian Boyce, from Amazon.
If you buy a new iPhone you get the latest iPhone system software (iPhone OS 3.0) and that software lets you do some pretty cool things:
Cut, copy, and paste
Landscape keyboard for email, text messages, etc.
Spotlight search of email, address book, etc.
Voice memos
… and lots more. The neat thing is, you can put the new iPhone software on an older iPhone– for free. It's fine with me if you quit reading right now and go do it.
In case you need instructions:
1. Connect your iPhone to your Mac with the USB cable.
2. Sync your iPhone (this creates a fresh backup).
3. Click the "Check for Updates" button in iTunes and get the 3.0 software
4. Download the update and let Apple (and time) do the rest.
Click here to see a list of the new features in iPhone OS 3.0 and to find out which of the features will work on your phone.
---
Got 60 seconds? Learn something about the Mac on my
One-Minute Macman website!
-----
Intego Internet Security X9.
The best. Scans for viruses.
Watches for inbound network attacks.
Works with macOS 10.8 and higher, including Mojave.
Install it and relax, knowing you're covered. Free trial.
This is what I use.