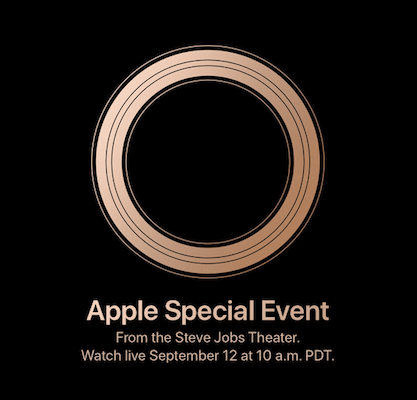 Amazon is now an Authorized Apple Reseller!
. Current models, older models, refurbished models-- now you are assured of getting genuine Apple products when you shop at Amazon.
Check it out.
Use this link
(note: sales via this link may generate a commission to Christian Boyce, from Amazon.
UPDATE: the announcement is over. You can click here and watch a recording of the entire event.
---
It's time for another one of Apple's announcement events. This one begins at 10 am PST on Wednesday September 12th, 2018. Use this link to
add the event to your calendar
.
How to watch:
On your iPhone, iPad, or iPod touch using this link (iOS 10 or higher)
On your Mac using this link (macOS 10.12.6 or higher, using Safari)
On your Apple TV (2nd generation or higher, latest updates, using the Apple Events app)
These shows usually run about two hours, and they're almost always available for replay later.
What to expect:
Well, the truth is I don't know what to expect. As usual, Apple isn't saying. Rumor has it that we'll see new iPhones, and a new Apple Watch, and maybe a new laptop. But those are only rumors, and I don't deal in rumors. I'll be watching at 10 am on Wednesday September 12th, 2018, same as you, to see what Apple has for us. As usual, I will go out on a limb and say "I don't know what they'll show but I think I want two of them."