iPad Pros on sale at Amazon!Use this link
(note: sales via this link may generate a commission to Christian Boyce, from Amazon.
Ten tips in ten days. Day 2.
When taking a picture with the iPhone, remember that the picture is taken when you take your finger off of the button, not when you touch it. So, get the camera app going, compose your picture, put your finger on the button and keep it there waiting for that perfect moment… and then, very gently, take your finger away. You will get better pictures this way (stabbing at the button to capture the picture at just the right time results in a jarred iPhone, and a blurry picture).
Bonus: remember that that the camera "button" is on the screen– it's NOT the home button. See below.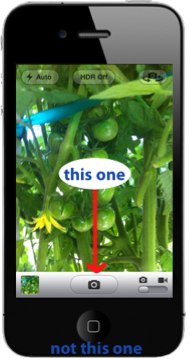 ---
Got 60 seconds? Learn something about the Mac on my
One-Minute Macman website!
-----
Intego Internet Security X9.
The best. Scans for viruses.
Watches for inbound network attacks.
Works with macOS 10.8 and higher, including Mojave.
Install it and relax, knowing you're covered. Free trial.
This is what I use.