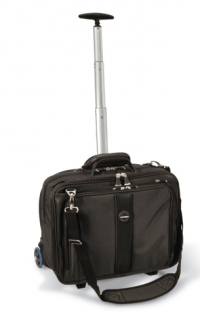 iPad Pros on sale at Amazon!Use this link
(note: sales via this link may generate a commission to Christian Boyce, from Amazon.
I bought this Kensington Contour Roller bag* in January 2006 to carry my laptop (at the time, a PowerBook G4 15 inch), and some CDs, and a bunch of floppy disks(!). It had pockets all over the place, so I also put in some pens, some business cards, some cables, and a bunch of other stuff. It was a fantastic bag and I used it every day in my travels to customer locations. The collapsable handle has been really handy, especially in airports.
Five and a half years later, the stitching on one of the handles is starting to come loose. Turns out that the bag has a limited lifetime warranty, and when I contacted Kensington about it they shipped me a new bag, free of charge, no questions asked. Incredible. The new bag is here now, ready to go into service tomorrow. I was willing to buy another ($99 list, less than that at Amazon*) because I felt I'd gotten my money's worth but wow, they replaced it for free! I could hardly believe it.
I love the bag, but I especially love the customer service. Way to go, Kensington. Papa's got a brand new bag!
Here's what Amazon carries of Kensington's— pretty good selection, and sometimes they still have things that Kensington has discontinued.
---
Got 60 seconds? Learn something about the Mac on my
One-Minute Macman website!
-----
Intego Internet Security X9.
The best. Scans for viruses.
Watches for inbound network attacks.
Works with macOS 10.8 and higher, including Mojave.
Install it and relax, knowing you're covered. Free trial.
This is what I use.