iPad Pros on sale at Amazon!Use this link
(note: sales via this link may generate a commission to Christian Boyce, from Amazon.
I don't know why everything seems to be printed in itsy-bitsy type these days but armed with my trusty iPhone I can read almost anything. It's ridiculously easy. I don't know why it took so long to come up with the idea but it did.
All you do is use the iPhone's camera app to take a picture of the tiny type. Then, tap the icon at lower left to display the picture. Then, "un-pinch" to enlarge. Problem solved.
For example: I needed to get some numbers from the back of an Apple Time Capsule. I took the picture on the left, then stretched it until it was big enough to read. See for yourself.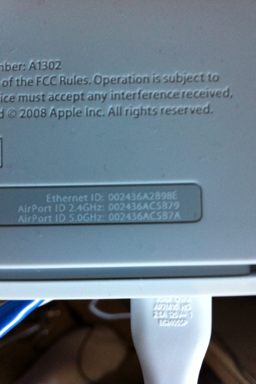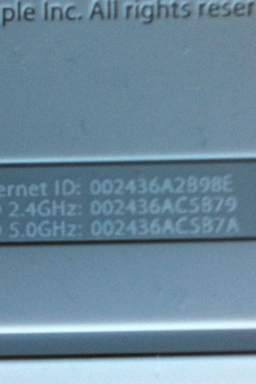 This works with an iPad 2 also though not as well since the camera on the iPad 2 isn't very good.
You can of course aim the camera at the tiny type, then touch the screen, then use the zoom controls to zoom in without taking a picture but that doesn't work as well because it takes two hands and you don't end up with anything permanent. If you need to take another look you have to return to wherever it was that you didn't take the picture. Take the picture to begin with and then stretch that, and have it forever.
---
Got 60 seconds? Learn something about the Mac on my
One-Minute Macman website!
-----
Intego Internet Security X9.
The best. Scans for viruses.
Watches for inbound network attacks.
Works with macOS 10.8 and higher, including Mojave.
Install it and relax, knowing you're covered. Free trial.
This is what I use.