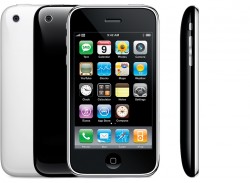 iPad Pros on sale at Amazon!Use this link
(note: sales via this link may generate a commission to Christian Boyce, from Amazon.
In the market for an iPhone? Tempted by the 3G at $99? Wondering whether the 3GS is worth an extra $100? Wonder no more. The answer is yes, it's worth it. Here's what you miss by not getting the 3GS.
Better camera for still pictures (3 megapixels vs. the 3G's 2 megapixels, autofocus, exposure control)
Video recording and editing (and built-in sending to YouTube and/or email and/or MobileMe)
Voice control (for dialing, for playing songs)
Faster web browsing (and faster network performance in general)
Compass (for knowing which way the map should be oriented)
The compass bears a little extra explanation. Most people think that the built-in compass is a toy, something for Boy Scouts maybe. Certainly not something useful to a city-dweller. As it turns out, the compass is something that turns out to be VERY useful. You might not use it directly, but some of the neatest apps on the iPhone rely on it. Here are a couple worth checking out, for those with a 3GS already:
Map (built-in app). When you show a map, and tap the location button, it shows where you are. Tap it again and it spins the map around so it's oriented the way you're facing. Can't do that without a compass.
New York Nearest Subway (pending approval from the Apple Store). You see a map of the subway system at first… then you tilt the iPhone up as if you were going to take a picture. You see the picture– and you also see, overlayed, the subway stations that are in that direction. You also get the distance to them. This makes it very easy to find a subway station.
Click here to see a video of New York Nearest Subway in action.

Pretty neat. And it is only for the iPhone 3GS, because it relies on the compass to know which way you're aiming.
It's easy to imagine a whole bunch of compass-using apps, such as one that would show gas stations or ATMs or bathrooms in the direction you're facing, or another that would tell you the name of the mountain you're looking at. These apps don't exist today but I am sure they will soon (even if I have to write them myself).
My advice to anyone choosing between the 3G and the 3GS is "get the 3GS." The extra $100 will hurt the moment you spend it but you'll be glad you did it every day after that, multiple times a day.
---
Got 60 seconds? Learn something about the Mac on my
One-Minute Macman website!
-----
Intego Internet Security X9.
The best. Scans for viruses.
Watches for inbound network attacks.
Works with macOS 10.8 and higher, including Mojave.
Install it and relax, knowing you're covered. Free trial.
This is what I use.