Updated July 8th, 2019.
Here's how you boost the maximum sound volume beyond what your Mac thinks "full blast" is– because sometimes "full blast" isn't loud enough. You don't need an amplifier or external speakers to do it. All you need is a remarkable piece of software called Boom 2.
How much louder will it get? Well, think of it this way: with Boom 2, your Mac's volume goes to 11.
UPDATE August 2018: Boom 3D
supplies surround sound for $16.99. However, if you use the coupon code BOOM3D33TM you'll save 33% and get it for $11.38. Use this link.

UPDATE May 2016: you can now get Boom for iOS! It's by Global Delight, the same people who make Boom 2 for the Mac, and it's sensational. It's also free (with in-app purchases). Read all about Boom for iOS in this blog post.
There are lots of reason why you might want to turn the sound up beyond the maximum. Maybe the stuff you're trying to listen to is hard to hear because it was recorded at a low volume. Maybe you're listening in a noisy environment. Maybe you don't feel like turning up your hearing aids just for one little YouTube video. Maybe Apple should put better speakers in their Macs. Whatever the reason, sometimes you turn your Mac up full blast and you still want it louder. You need Boom 2*.
Boom 2 is easy to get, and easy to install and use. You can download Boom 2 directly from the publisher. It's the same price at Mac App Store so get it as you like to.
Boom 2 is an application, so drag it to your Applications folder and open it from there with a double-click. Then, click the "Install" button, give it a minute, and "boom" you're done. (If you download from the Mac App Store all of this is done for you automatically.)
[jpshare]

After installing, look for the Boom 2 icon in your menubar. When you click it, you'll get a volume slider representing the amount of boost that Boom's providing.

The bottom of the Boom 2 menu gives access to Boom 2's preferences, but by default they're set the way they ought to be, so you don't have to bother if you don't want to. There's a nice equalizer for those who like to tweak their sound but you can leave that alone too.
You are probably wondering how they do it. So am I. Probably a Fast Fourier Transform (FFT) function (of course) but who cares, it works! Give it a try for yourself.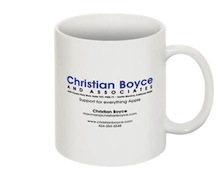 Tom N. wins the coffee cup for inspiring this blog post. Tom couldn't make the Sharknado movie trailer loud enough to be realistic (yes I know that is sort of funny), even with his Mac at full volume, and he turned to me for help. The answer was Boom 2*.

---
---
Copyright 2008-2023 Christian Boyce. All rights reserved.
---
Did this article help you?
Maybe you'd like to contribute to the
Christian Boyce coffee fund.

---
Want some some quick iPhone how-tos?
Visit me at
iPhoneinaminute.com
.
Looking for quick tips about Macs?
See my
One-Minute Macman
website!
Sincerely,
Christian Boyce
---