iPad Pros on sale at Amazon!Use this link
(note: sales via this link may generate a commission to Christian Boyce, from Amazon.
Suppose you were writing an email using Apple's Mail program. Suppose you made some typing mistakes (who me?). Suppose your email looked like this:

Not very good! But, those red underlines do show you where you made mistakes, and there are plenty of ways to make corrections. I will cover those in a future blog post. For now, though, let's learn how to have Mail correct the problems as you type rather than just underline them. It's a simple one-step procedure.
All you do is get an email window up, and then go to the Edit menu and turn on Correct Spelling Automatically. With that checked, the exact same typing is corrected, behind your back, without you doing anything at all.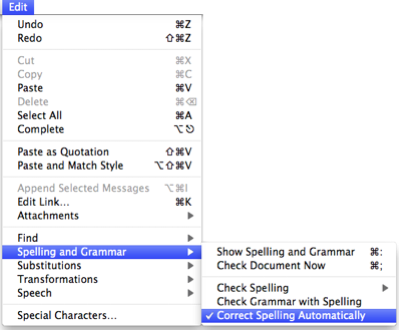 Here is how it looks when you make the same typing mistakes, but with Correct Spelling Automatically checked. I'm not kidding. Every single mistake was corrected without me doing ANYTHING. You should try it.

Turns out that this automatic correction works a bunch of other places but Mail is where you will use it the most.
Sorry to say that this only works in OS X 10.6 and higher. Another reason to get to 10.6.
---
Got 60 seconds? Learn something about the Mac on my
One-Minute Macman website!
-----
Intego Internet Security X9.
The best. Scans for viruses.
Watches for inbound network attacks.
Works with macOS 10.8 and higher, including Mojave.
Install it and relax, knowing you're covered. Free trial.
This is what I use.