iPad Pros on sale at Amazon!Use this link
(note: sales via this link may generate a commission to Christian Boyce, from Amazon.
In case you didn't get enough fireworks tonight here's an iPhone app that lets you make fireworks anytime you want. It's called "iLoveFireworks Lite" and it's free.I can't find any written directions but through trial and error I've discovered a few things. First, tap on the screen to make a small firework. Second, drag your finger (in any direction) to make a trail that ends up in a firework. Third, tap and hold to make a BIG firework (when you lift your finger). Fourth, and this is my favorite, tap and hold with multiple fingers to make that many fireworks at once.
Here's a picture.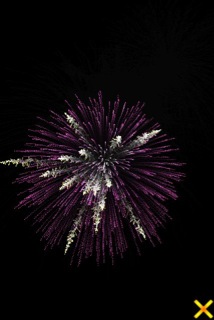 Go have fun. For free.
---
Got 60 seconds? Learn something about the Mac on my
One-Minute Macman website!
-----
Intego Internet Security X9.
The best. Scans for viruses.
Watches for inbound network attacks.
Works with macOS 10.8 and higher, including Mojave.
Install it and relax, knowing you're covered. Free trial.
This is what I use.