iPad Pros on sale at Amazon!Use this link
(note: sales via this link may generate a commission to Christian Boyce, from Amazon.
I'll bet you've seen a dialog box like this before:


Or maybe like this one:


Or this one:


You probably already know the keyboard shortcut that lets you click the Save button without using the mouse: you hit Enter, or Return. That's great, when you want it. But what about the rest of the time? What about when you really don't care about the document, and you DON'T want to save the changes? How can you click the Don't Save button from the keyboard?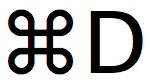 The answer, in almost every case, is Command-D. Memorize this one (D for Don't is the way I remember it) and you'll reach for the mouse a little less. That will save you a little bit of time over and over and over. Try it and see.
---
Got 60 seconds? Learn something about the Mac on my
One-Minute Macman website!
-----
Intego Internet Security X9.
The best. Scans for viruses.
Watches for inbound network attacks.
Works with macOS 10.8 and higher, including Mojave.
Install it and relax, knowing you're covered. Free trial.
This is what I use.