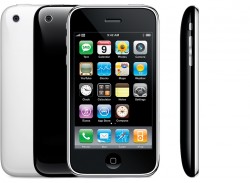 iPad Pros on sale at Amazon!Use this link
(note: sales via this link may generate a commission to Christian Boyce, from Amazon.
You're probably thinking "what a waste of time– what's so hard about charging an iPhone? Just plug it into the wall, right? Right?"
Wrong. Well, technically "right", except my way is even more right. And my way is "plug it into the computer." Here's why.
Plugging into the wall charges the iPhone. That's all it does. Plugging into the computer will also charge the iPhone, but does more:
It creates a backup, automatically, of everything on the iPhone. If you lose the iPhone, or it breaks, you can connect the new one to your computer and load your old data. This leads to This Important Tip: connect your iPhone to your computer every day.
It allows you to synchronize contacts and calendars without using Apple's $99 MobileMe service for through-the-air synching.
It allows you to bring in music and videos and iPhone apps, through iTunes and the iTunes Store.
You already have the right cable– just pull it out of the AC adapter and plug it into the computer.
Note: if you have multiple computers you will have to decide which one to use for the charging. Pick one and keep using it. It's possible to set things up so you can sync and backup from one computer, and charge from multiple others– tell me you want to know how and I'll send you a note.
Naturally it is OK with me if you get an adapter to let you charge the iPhone in the car. In fact, I think that's a great idea. Just be sure that you buy an adapter made specifically for the iPhone. If you get one that was made for an iPod you'll be able to connect it just fine… but it will drain, rather than charge, your iPhone.
---
Got 60 seconds? Learn something about the Mac on my
One-Minute Macman website!
-----
Intego Internet Security X9.
The best. Scans for viruses.
Watches for inbound network attacks.
Works with macOS 10.8 and higher, including Mojave.
Install it and relax, knowing you're covered. Free trial.
This is what I use.