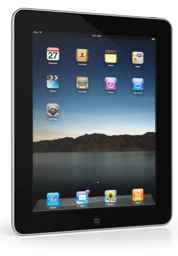 iPad Pros on sale at Amazon!Use this link
(note: sales via this link may generate a commission to Christian Boyce, from Amazon.
300,000 iPads sold so far. Pretty impressive for something that no one thought they wanted or needed– really, an extra device, not a replacement for anything else– until Apple showed it to us in January.
Correction: it's 300,000 iPads as of midnight Saturday April 3rd (the first day they were available). That's even better.
---
Got 60 seconds? Learn something about the Mac on my
One-Minute Macman website!
-----
Intego Internet Security X9.
The best. Scans for viruses.
Watches for inbound network attacks.
Works with macOS 10.8 and higher, including Mojave.
Install it and relax, knowing you're covered. Free trial.
This is what I use.