iPad Pros on sale at Amazon!Use this link
(note: sales via this link may generate a commission to Christian Boyce, from Amazon.
Apple put out a firmware update (version 7.6) for its Airport wireless routers. It helps with AirPlay (that amazing feature that lets you show your whole iPad 2 or iPhone 4S screen on your TV, provided you have an Apple TV), and with network performance. Apple doesn't say much more about it, but I've installed it here on two Airports and so far so good.
Airport base stations check weekly with Apple for updates. When there is one, like this 7.6 update, your Airport base station's light will flash orange, on and off, and you are likely to get a message on your Mac's screen that there is "a problem" with your Airport. That's overdoing it– they shouldn't call it a problem– and you shouldn't be worried that there is something wrong. All you have to do is let the update take place, which it will do automatically if you simply click "Continue" when the box pops up, telling you about "the problem."
You can easily do this yourself. You're supposed to. Note that your internet will go down for just a moment after the update, as the installation requires restarting the Airport and while that's happening, you're offline. It won't take more than a minute or so for the restart, and less than five minutes for the entire process. So go for it.
(If you want to get straight to doing the update, locate the Airport Utility (in the Utilities folder, in the Applications folder) and do the update from there.)
Super-cool: you can update your Airport using your iPad or iPhone. Get the official Apple Airport Utility app and you're on your way.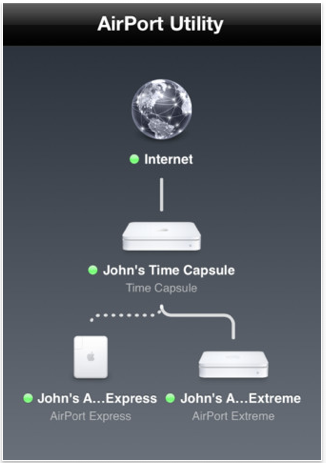 Tap one of the Airports and you get a bunch of info, including an option to update firmware. So neat.
---
Got 60 seconds? Learn something about the Mac on my
One-Minute Macman website!
-----
Intego Internet Security X9.
The best. Scans for viruses.
Watches for inbound network attacks.
Works with macOS 10.8 and higher, including Mojave.
Install it and relax, knowing you're covered. Free trial.
This is what I use.