iPad Pros on sale at Amazon!Use this link
(note: sales via this link may generate a commission to Christian Boyce, from Amazon.
Google Maps is fantastic, better than Mapquest in my opinion. If you're not using it you are missing out on a terrific service, and of course you can't beat the price (it's free). Enter maps.google.com into your browser, type in any address, and presto, you're looking at a map of that location. You're only a click away from getting directions, and traffic, and more. It's super.
Even more super is being able to bring up the map without typing in the address. That's what you can do if you use Apple's Address Book (the brown one whose icon is shown at the top of this hint). Bring up a contact in Address Book and click next to the address. If it's a home address, click where it says "Home." If it's a work address, click on the word "Work." You can see part of the word "Work" in grey in the picture below. That's where I clicked.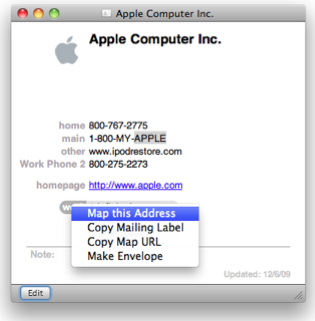 Select "Map this Address" and you're taken to Google Maps, where the address you clicked on is displayed on a map. Like so: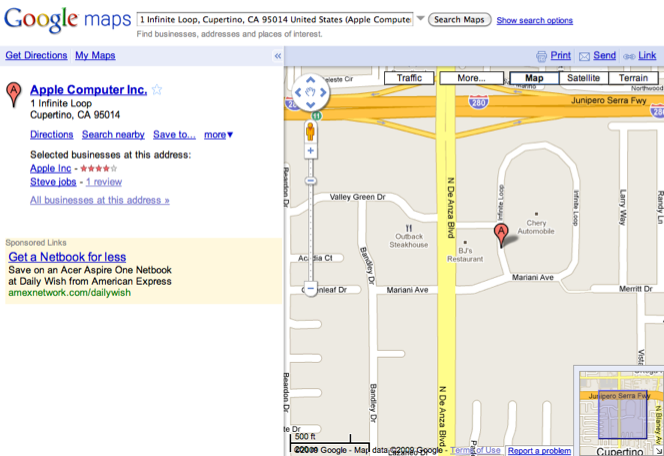 Isn't that cool?
(By the way, if you're wondering why your menu doesn't show "Make Envelope" it's because you don't have my custom "Make Envelope" AppleScript installed on your machine. It turns out that Apple allows us to create our own menu items that do anything we want them to do, and I thought it would be handy to be able to create an envelope by clicking on an address. So I did the programming and now I have the "Make Envelope" option on all of my machines. If you have an idea for something you'd like to do with an address send me an email and we'll figure out how to do it.)
---
Got 60 seconds? Learn something about the Mac on my
One-Minute Macman website!
-----
Intego Internet Security X9.
The best. Scans for viruses.
Watches for inbound network attacks.
Works with macOS 10.8 and higher, including Mojave.
Install it and relax, knowing you're covered. Free trial.
This is what I use.