iPad Pros on sale at Amazon!Use this link
(note: sales via this link may generate a commission to Christian Boyce, from Amazon.
If you have a Mac, you have a copy of Apple's iCal calendar. It's a nice little calendar, and it syncs with the iPhone, and there's almost no reason not to use it. Especially when someone else types in the information! That's where MarkThisDate comes in. MarkThisDate has zillions of calendars that are yours for the clicking– they jump right into your iCal and you can easily turn them off by unchecking a checkbox, or delete them all at once with just a couple of clicks.
By the way, the calendars are free.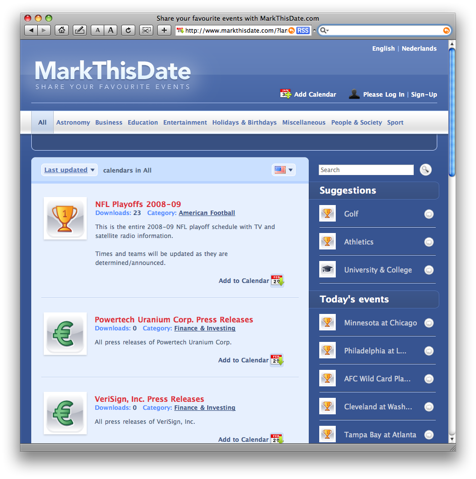 Here are a couple of handy calendars to get you started.
NFL Playoff Schedule (updated as the playoffs progress)
California Golden Bears Football Schedule (updated as games are added and changed)
Moon Phases
Note: when you click those links you'll be taken to iCal, where a box will appear asking you some questions about this new calendar that you are about to add. The key: tell the calendar to REFRESH every day (or at some other interval). You want it to refresh because you want updated information. For example, the NFL Playoff calendar as of this writing shows that San Diego beat Indianapolis in overtime, and that Arizona beat Atlanta. Very nice.
---
Got 60 seconds? Learn something about the Mac on my
One-Minute Macman website!
-----
Intego Internet Security X9.
The best. Scans for viruses.
Watches for inbound network attacks.
Works with macOS 10.8 and higher, including Mojave.
Install it and relax, knowing you're covered. Free trial.
This is what I use.