iPad Pros on sale at Amazon!Use this link
(note: sales via this link may generate a commission to Christian Boyce, from Amazon.
— Should I install the iOS 9.3.5 update on my iPhone? —
Apple's released another iOS update and this one plugs a hole that allowed someone to hack into an iPhone remotely and monitor activity. Text messages, emails, phone calls, location info– you name it. Pretty sophisticated, and pretty serious stuff. You can read about the exploit in the New York Times' excellent article.
It boils down to this: if you're on any version of iOS 9, get the 9.3.5 update right away.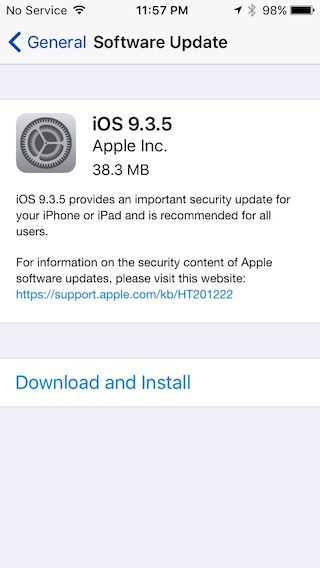 The easiest way to do it is "in place, over the air" which means connect to WiFi, then go to Settings/General/Software Update. It will take about half an hour so be sure your device is not about to run out of power. Personally, I make sure my iPhone and iPad are charging when I do software updates and I think you should too.
If your iPhone or iPad is on iOS 8 this is a good time to upgrade to 9. As above, be sure your device is charging while this takes place.
If your iPhone or iPad is on iOS 7 I recommend staying there (for most users). Yes, this security hole is something you'd like to plug, but moving to 9.3.5 from 7 is a big jump, and you may have performance issues. On the other hand, if you're running a big company, or running a country, or selling guns to a government, or a journalist, you need to be as secure as possible— so what are you doing with an iPhone running iOS 7? Get a new one with iOS 9.
You can read about the security content of iOS 9.3.5 on Apple's website. It's a little vague but you might learn something.
Got 60 seconds? Learn something about the Mac on my
One-Minute Macman website!
-----
Intego Internet Security X9.
The best. Scans for viruses.
Watches for inbound network attacks.
Works with macOS 10.8 and higher, including Mojave.
Install it and relax, knowing you're covered. Free trial.
This is what I use.