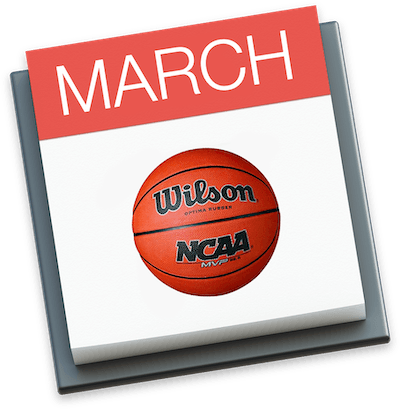 Here is the NCAA Men's Basketball Tournament calendar, in ics (iCal) form. It's as up-to-the-minute as I can make it and I'll keep updating it as games are played. Game times are correct for your time zone– none of that "All Times Eastern" stuff.
(I've also created the NBA Playoffs Calendar for iPhone and Mac. Check it out, and tell a friend!)
Bonus: if you subscribe to my calendar this year, and assuming I get some good feedback on it this year, I'll do it again next year and you won't have to do a thing. The games will magically appear in your calendar next March.
Getting the calendar is easy: all you have to do is click this link. When you do that, you'll probably be asked whether it's OK for Calendar to open the link. The answer is YES. When adding the calendar to your Mac you'll get a box like this:
You'll probably want to set things up similarly on your Mac. The important part is you want the calendar to refresh every day (or more frequently than that if you want).
Here's the calendar on the iPhone. To get it, click the link and when asked about subscribing to the calendar "March Madness," click "Subscribe."
(The calendar can easily be turned off by unchecking it in the Calendar app on the iPhone, Mac, and iPad. Same thing in Google Calendar.)
The official March Madness app (for iPhone and iPad) has a lot of great features (best one: you can watch the games on your iPhone) but it doesn't integrate with the Calendar app on your iPhone, Mac, or iPad. That's where my calendar comes in: it shows up in the Calendar app. I couldn't find such a calendar online so I made it myself.
I make a similar calendar for the College Football Bowl Games every year. Subscribe to that one and get the schedules, year after year. I do listen to feedback (in fact, that's why I'm doing the March Madness calendar), so please let me know (via the comments) if you have a suggestion or correction. I'd really appreciate it.