iPad Pros on sale at Amazon!Use this link
(note: sales via this link may generate a commission to Christian Boyce, from Amazon.
— I love football, part 2 —
UPDATE: here is the 2016 College Football schedule, for each team in America.
The football season is finally here! And with that comes the complex time-management task of watching all the important games with a limited number of TVs in the house. My method: keep tabs on the games via the internet, and if a game starts to look interesting, switch over to it on the TV. I use this page on ESPN's website because it lets me see the scores of all the games, real-time.
I particular like the "GameCast" feature, which shows a graphic of the field so you can see where the ball is, and a description of the last play. Here's how it looks: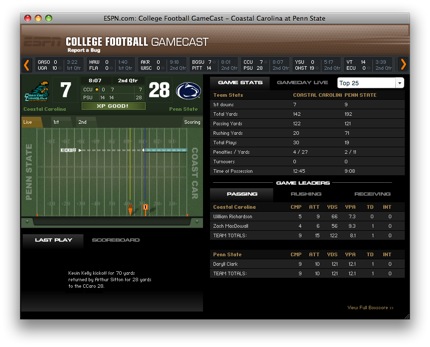 You can open up a couple of "GameCast" windows and keep an eye on all of them at once. If you have a TV in the same room as your Mac you're all set– put one game on the TV, and watch the rest on the internet. When GameCast shows you that someone's about to score, or that the game's almost over but still very close, you'll know about it in time to switch the TV to that game. Sort of the poor man's "picture in a picture."
This works for the NFL too, of course. I just prefer watching the college games.
---
Got 60 seconds? Learn something about the Mac on my
One-Minute Macman website!
-----
Intego Internet Security X9.
The best. Scans for viruses.
Watches for inbound network attacks.
Works with macOS 10.8 and higher, including Mojave.
Install it and relax, knowing you're covered. Free trial.
This is what I use.