Amazon is now an Authorized Apple Reseller!
. Current models, older models, refurbished models--
check it out.
Use this link
(note: sales via this link may generate a commission to Christian Boyce, from Amazon.
Best Buy sells the iPad 2, and they have a handy online iPad 2 availability checker where you can tell it which iPad 2 you want, enter a zip code, and find out whether Best Buy has it in stock at a store near you. They are not currently accepting iPad 2 orders online so if they do have it in stock you'll have to RUN to the store and get one (because you can't reserve it online). Still, it beats driving all over the place and making a bunch of phone calls.
UPDATE: Best Buy has changed their site a tiny bit. Now, when you follow the link above, you get to a page where they show the iPads, but then you have to click on a link to check availability for that particular unit. Of course, they don't have any iPad 2s, in any flavor, when I check, but who knows, you might get lucky. Here's a picture of what you're looking for. Bonus: click anywhere on the picture to see Best Buy's complete selection of iPad 2s. From there, click those "Check Shipping & Availability" links.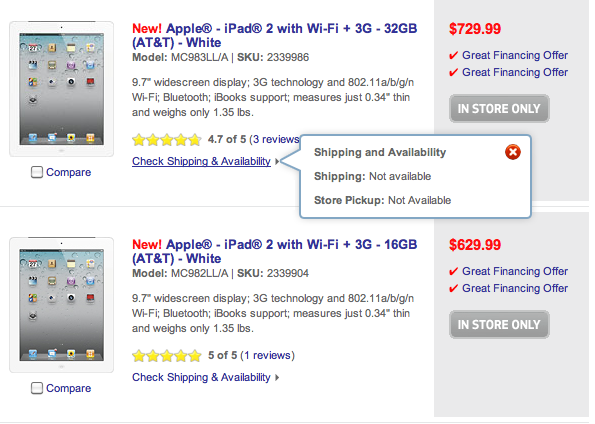 UPDATE 2: Target also sells the iPad 2, but it appears that Best Buy is a better bet. I went to a big Target in Los Angeles and they told me they'd received FIVE iPad 2 units– not even one of each Wi-Fi flavor– on launch day, and nothing since. They have no idea when they'll get more.
UPDATE 3: Best Buy has them now (March 23rd, 2011). Use the Best Buy iPad 2 Availability Checker (thanks, www.obamapacman.com).
---
Got 60 seconds? Learn something about the Mac on my
One-Minute Macman website!
-----
Intego Internet Security X9.
The best. Scans for viruses.
Watches for inbound network attacks.
Works with macOS 10.8 and higher, including Mojave.
Install it and relax, knowing you're covered. Free trial.
This is what I use.