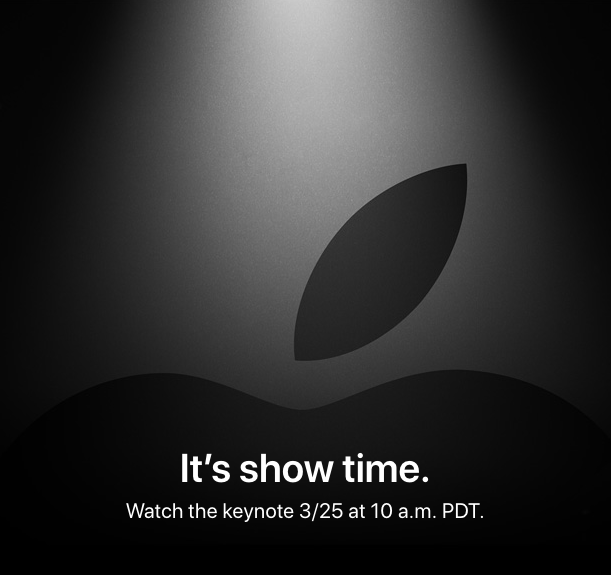 Update: the show's over. You can watch a replay of the whole thing– one hour, 50 minutes– on Apple's site. You can see a condensed version– six minutes!– at MacRumors.com. Thanks, MacRumors!
Apple's going to show something at 10 AM Pacific time on Monday March 25th, 2019. I've read a lot of rumors about this event but as usual the people who really know what's going to happen aren't allowed to talk. So I wait, same as you, for 10 AM to roll around.
Prediction: Tim Cook will come out and say "Good morning!" twice before saying anything else. Update: I was wrong. He actually said "Thank you! Thank you! Thank you! Thank you! Thank you! Thank you!" and then "Good morning!"
Note: if you can't watch the show at 10 AM Pacific time you can probably catch a replay. I say "probably" because Apple hasn't promised it. Typically, however, Apple does make these presentations available, on demand, shortly after the show.
Apparently Apple thinks their audience knows how to watch because they didn't mention how to do it. Maybe this stuff is getting so routine that everyone knows what to do. In case they don't, here's how to watch:
Using the Apple Events app on your Apple TV
On your Mac, using Safari or Chrome to go to www.apple.com
One your iPad or iPhone, using Safari to go to www.apple.com
At an Apple Store, on the big big big screen
Apple quietly updated a bunch of hardware last week. They improved performance in the MacBook Pro and the iMac, they released updated Apple AirPods, they introduced a new iPad Air. I think they wanted to get those announcements out of the way so they could focus on whatever the big news is on Monday. We will see.
As usual, I'll summarize things when the show is over.