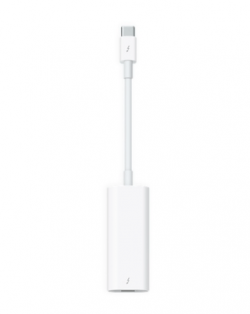 iPad Pros on sale at Amazon!Use this link
(note: sales via this link may generate a commission to Christian Boyce, from Amazon.
— Apple reduces prices on dongles and LG screens —
Apple has cut prices on the USB-C adapters (or "dongles") designed to connect your existing peripherals to their new, all-USB-C MacBook Pro computers. They've also cut prices on Thunderbolt 3 accessories. Discounts in some cases are nearly 50%. This is the time to buy (because the prices will go back up January 1st, 2017).
This USB-C to Lightning cable (handy if you want to connect your iPhone 7 to your new MacBook Pro) is now $19 (was $25).
Apple has also reduced the price of the new LG UltraFine displays, which were designed with the MacBook Pro in mind, by 25%. (These are neat monitors– they connect to the new MacBook Pros with a single USB-C cable, and that one connector provides signal to the monitor, powers the MacBook Pro, activates the USB-C ports on the back of the monitor, and provides sound input to the monitor from the Mac. All in one cable!) The discount, which gets the 21.5-inch monitor down to $524, is in effect from now until January 1st, 2017. A 27-inch version of the monitor will come out in December, so if you want one, move quickly so you get it before the price goes back up.
You get the discounted pricing whether you buy from the online Apple Store or from one of Apple's retail locations.
In case you're wondering: yes, I do think these price reductions are a reaction to the tepid reception Apple's latest MacBook Pros received. They took away every port we know and replaced them with 4 USB-C ports… which means you need an adapter for each one. I don't think this went over very well, and I think Apple is trying to smooth things over so their customers don't get too mad.
Got 60 seconds? Learn something about the Mac on my
One-Minute Macman website!
-----
Intego Internet Security X9.
The best. Scans for viruses.
Watches for inbound network attacks.
Works with macOS 10.8 and higher, including Mojave.
Install it and relax, knowing you're covered. Free trial.
This is what I use.