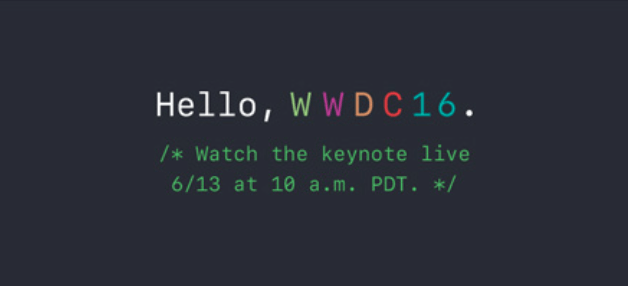 How to Watch Apple's WWDC Keynote
UPDATE: The keynote is over. Here's a link to the entire recorded keynote (122 minutes).
UPDATE #2: Here's a link to a seven-minute condensed version of the keynote from our friends at MacRumors.
Apple's 2016 World Wide Developers Conference (WWDC) is June 13th through the 17th in San Francisco, California. Although the conference itself is for Mac, iPhone, iPad, iPod touch, Apple Watch, and Apple TV developers, the keynote speech usually has something for the rest of us, and you can watch it on a Mac, on an iPhone, on an iPad, on an iPod touch, or on an Apple TV. (You can't watch it on an Apple Watch; you can, however, watch it on a PC.)
Here's what you need to know in order to live stream the 2016 WWDC Keynote
When: 10:00 AM Pacific Daylight Time, Monday, June 13th, 2016
How: Go to http://www.apple.com/apple-events/june-2016/. Keynotes typically run between one and two hours. Make popcorn.
Straight from Apple, here are the requirements for watching the keynote live stream:
Live streaming uses Apple's HTTP Live Streaming (HLS) technology. HLS requires an iPhone, iPad, or iPod touch with Safari on iOS 7.0 or later, a Mac with Safari 6.0.5 or later on OS X v10.8.5 or later, or a PC with Microsoft Edge on Windows 10. Streaming via Apple TV requires an Apple TV (2nd or 3rd generation) with software 6.2 or later or an Apple TV (4th generation).
Here's what to look for in the keynote:
Debut of iOS 10. There's no telling what's coming in the new iPhone and iPad system but I'm sure it's something we'll want. I'm positive they'll be showing it.
First look at Mac OS 10.12. Rumors say Siri is coming to the Mac, but I expect something bigger than that. I'm sure about this one too.
Introduction of a new laptop. The MacBook Pro gets updated every year or so, and it's been more than a year. I'd say this is pretty likely.
A brief look at a new OS for the Apple Watch. Maybe.
A brief mention of an updated OS for the Apple TV. Also maybe.
Groovy new commercials, a slide show of all the new Apple Stores, and pie charts showing how great Apple is doing as a company. Definitely.
Announcement of ME as a new Apple Vice President in charge of simplifying the complicated stuff. Ah, no. Probably not. Almost certainly not. But, "if chosen, I'll serve," and wouldn't that be cool.
Apple could surprise us all with something completely new, and if they do, I'll want two of them. Yes, this is the same joke as last year.
Apple generally posts the keynote video shortly after it's finished so you will be able to watch it later if you're not able to watch it live. In that case just go to www.apple.com and look for a link.
BONUS: It's always fun to try to figure out what Apple's hinting at with their invitation. Let's have a go at it.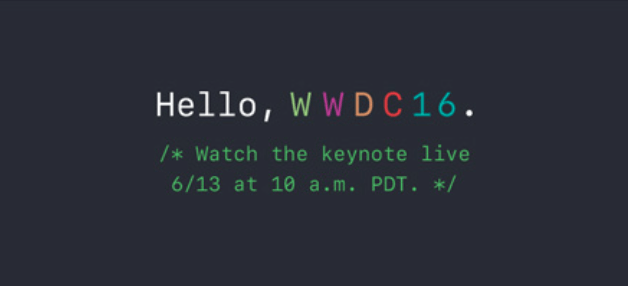 The first line is an inside joke: beginning programming books typically begin by teaching how to write a program that displays "Hello, World" on the screen, and this line's font gives it the look of code. Nothing special there– this is a conference for programmers, so "Hello, WWDC2016" makes a lot of sense. It just looks like programming. On the other hand, the colors don't look like programming. Apple is trying to tell us something. Five colors (six if you count white). Could these be new colors for a new laptop? Could they signal a return to a six-color Apple logo (with updated colors)? Might that signify a "return to their roots," whatever that might mean?


The green "Join us here…" line, for the non-programmers, is a comment— non-executed code, inserted into the program to help the programmer find his way when reading through his program. Comments are bracketed by "/*" at the beginning and "*/" at the end– those symbols tell the compiler to ignore the words between them. It's sort of geeky but that's all. Maybe they're trying to make a point: this conference is for developers, not for the general public/consumers. Maybe they're hinting at a new version of Swift, Apple's programming language that is taking over from Objective-C.
(The version of the 2016 WWDC banner at http://www.apple.com/apple-events/june-2016/ adds a note about adding the keynote speech to one's calendar– and it's written in the style of a programming function. There's even a blinking cursor. That's two more hints that "this is for developers." We knew that already– but maybe it means we're right when we guess about an updated Swift.)
Obviously, this is all guesswork. Feel free to post your own guesses in the comment section below. Watch the keynote at 10 AM PDT June 13th and let's see who had the crystal ball.