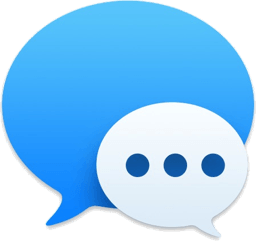 — Option Key tip #11: Delete a Messages conversation with one click —
Read 'em all:
Option Key tip #1: the WiFi Menu
Option Key tip #2: the Battery Status Menu
Option Key tip #3: Close All Finder Windows
Option Key tip #4: Reveal a Contact's Groups
Option Key tip #5: Rotate the Other Way
Option Key tip #6: Option-Drag
Option Key tip #7: Option-Click
Option Key tip #8: Option-Empty Trash
Option Key tip #9: Special Characters
Option Key tip #10: One-click System Information
Option Key tip #11: Delete a Messages conversation with one click
Option Key tip #12: Open your Library folder

You use the Messages app on your Mac, don't you? (You should– you can tied it into your phone's text messaging using your iCloud address, so the same messages show up on both devices, and it's a lot easier to type on the Mac than on your phone.) Anyhow, sometimes you want to delete a conversation, and when you do it goes like this:
1. Hover over the conversation until you see the "x"


2. Click the "x" and wait for the box to slide down, asking if you're sure


3. You click the "Delete" button and you're done.
Turns out you can do it with one click— if you're holding down the option key! Just hold it down and click the "x." No waiting for the box to slide down, no need to click a confirming button. Just a simple Option-click. Voilá!
BONUS: turns out you can do it with no clicks. Rather, you do it from the keyboard. If you look in the File menu you'll see "Delete Conversation…" (and as you know, anytime you see "…" you're going to see a dialog box with a chance to confirm or cancel). Notice the shortcut for "Delete Conversation…": Command-Delete.


Now notice what happens if you hold down the Option key. The menu items changes– and so does the shortcut. Now it's Option-Command-Delete.


So, if the conversation is selected, all you have to do is press Option-Command-Delete. No dialog box, no buttons to click, no muss, no fuss. Which also means "no chance to undo it so you had better be sure about deleting the thing."
NOTE: if you check the box in Messages' preferences to "Save history when conversations are closed" you won't get asked about saving conversations (because they're automatically saved).

And that's my eleventh Option key blog post.